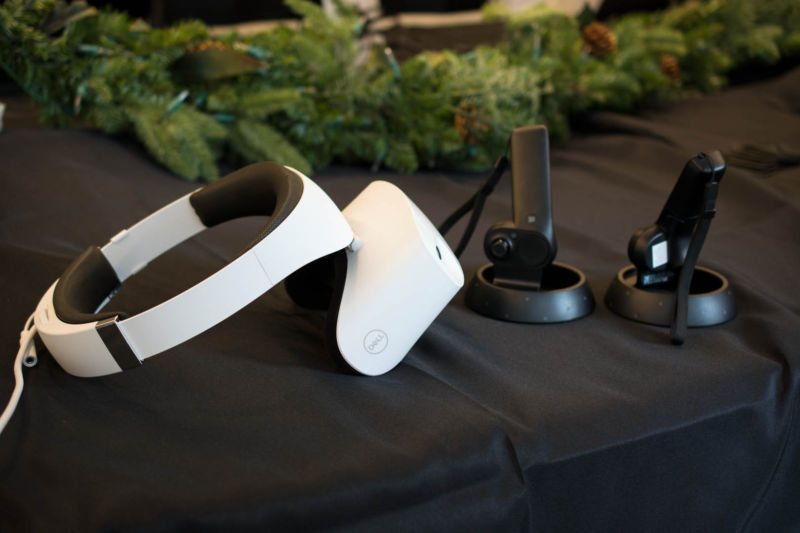 Dell has a wide array of products under its name and brands, including Alienware, but the company has never had its own mixed reality headset until now. Dell announced the Dell Visor ahead of this year's IFA conference, along with a number of updates to its XPS and Inspiron systems. Most notably, all of Dell's updated laptops and convertibles will have 8th-generation Intel processors, making them some of the first devices to launch with the new CPUs later this year.
Dell jumps into mixed reality
Dell has made a number of VR-ready desktops and laptops, but now it has its own VR headset to go along with them. The company's first mixed reality headset looks most like HP's or Acer's headset, with an oval-shaped ring that fits around your head with an attached, goggle-like viewfinder. The head-wrapping ring adjusts easily using a thumbwheel that expands and contracts the sides, similar to adjusting the length of a pair of over-ear headphones. With the ring opened just wide enough for your head, you can tilt the viewfinder up to put the device on, then snap it down into place when you're ready to enter a mixed reality experience.
Overall, the Visor feels less cumbersome on your face than an Oculus Rift. With no external sensors needed, it's also easier to set up than an HTC Vive. Users will still need to draw a five-by-seven-foot boundary for their mixed reality situations to live in, but that's done by simply hovering the headset over your boundary lines. The Visor connects to a compatible PC through a single USB Type-C connector, and you only have to manage that one cord, so it creates less of a mess around your PC. Similarly to HP's and Acer's headsets, it has 1440×1440 panels for each eye.