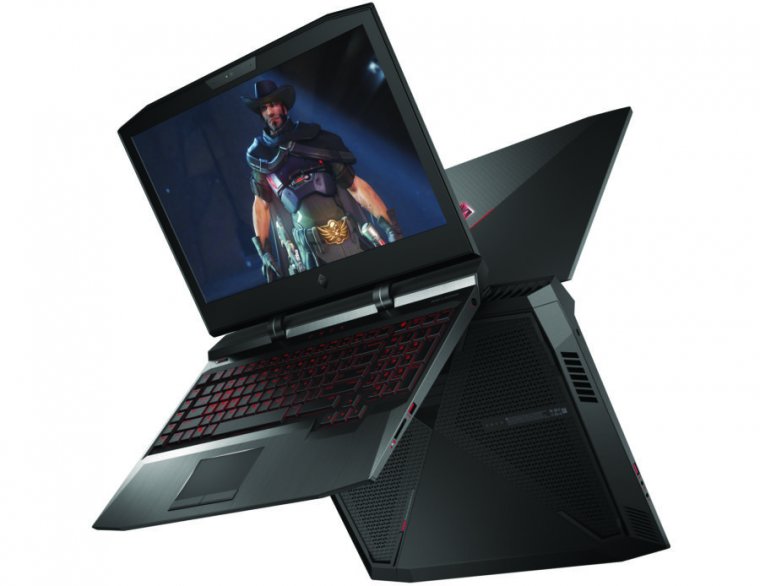 HP gave its Omen gaming line a big boost before this year's E3 with the launch of new gaming PCs, peripherals, a GPU accelerator, and a VR backpack. While the company wants to provide devices for all kinds of gamers, its newest launch targets enthusiasts who don't want to compromise power when choosing a portable device. The new Omen X laptop is a behemoth gaming notebook, measuring 16.73 x 12.88 x 1.43 inches and weighing 10.69 pounds. All that space is for good reason: the Omen X trades svelte for substance as it features a bunch of perks typically only seen in stationary gaming PCs.
One of the biggest things HP emphasized about the Omen X laptop is its overclocking abilities. The Omen X laptop can be configured how you'd like and you can choose to get it with Intel's 7th gen Core i7-7820HK CPU, which is factory unlocked for overclocking. Gaming enthusiasts (and general PC enthusiast as well) are more likely to experiment with overclocking their devices to get the most performance out of the CPU as possible. However, that would normally be taxing on the entire system and the processor in particular since it produces extra heat.
As such, HP designed the internals of the Omen X laptop differently from those in its previous Omen laptops to better handle the heat produced by overclocking. HP also claims the design reduces thermal throttling that can limit the overclocking affects. The company removed the optical drive and included higher-performance fans that allow for more airflow through the machine than in the existing Omen laptops. With the help of an integrated vapor chamber and bottom vent holes, the internals better move heat away from the important stuff (CPU, GPU) and expel air through the back and sides of the laptop (which also keeps the heat away from you, the user).