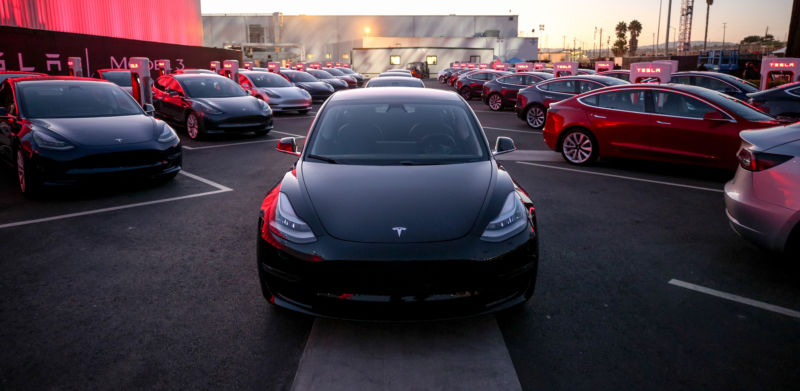 Last Friday, Tesla's new Model 3 electric vehicle finally hit the streets. At an event in California, the company handed over the first few production vehicles, a process that will continue for quite some time as Tesla fills what could be half-a-million prospective orders on its books.
Tesla made its reputation—and rebuilt that of the EV—on the backs of the Model S sedan and Model X SUV, high-end vehicles that have done a lot to dispel the idea that an EV has to be a hair-shirt experience. But it has a very different task at hand with the Model 3, which must sell at a far lower price and in much greater volume. That's meant an obsessive approach to cost reduction, requiring some design choices that have not gone down well with everyone. But the more I consider what the company has done, the more impressed I am. Assuming the early takes and my gut instinct are accurate, Tesla deserves to sell them in the millions.
What kilowatts?
While I have your attention, I do have one gripe about the Model 3 I would like to get on the record, and it concerns how we talk about batteries. As expected, the Model 3 is available with a choice of two different battery packs, and I was wrong—the bigger battery isn't just a software unlock away. Unlike the Model S and Model X, the 3 will use Tesla's 2170 cells. The 2170s are larger than the 18650 cells even though they cost less to produce and have almost double the energy density (6,000mA compared to 3,000mA, according to InsideEVs.) But just what the battery specs are for the Model 3 variants remains unknown. The event and Tesla's press kit simply describes them by range: 220 miles or 310 miles.