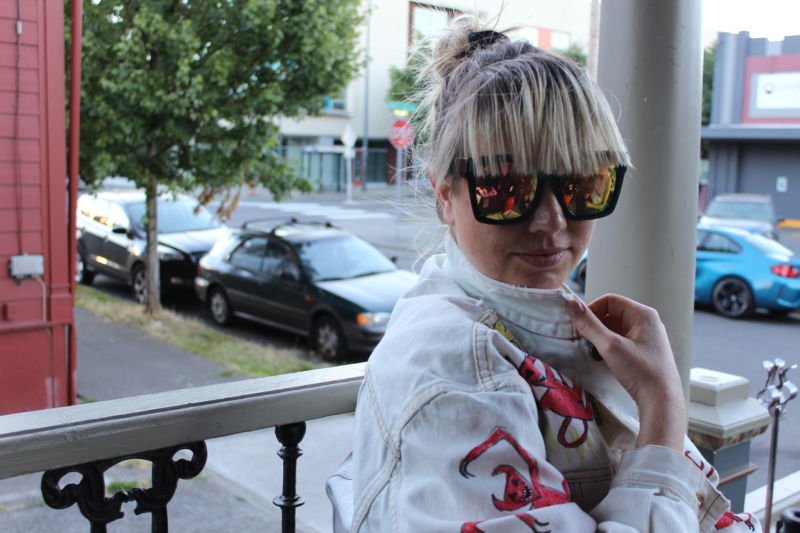 PORTLAND, Ore.—After a recent evening of dinner and drinks with artist/musician Erika Anderson, I was taken to a stranger's apartment, then asked to put on a VR headset and lie on a floor. I did as I was told, without any explanation of what was about to happen. I could hear muffled giggling in the room through my headphones as a VR scene opened up above me.
I had landed in an alternate reality of technicolor skies while laying on what appeared to be a massage table. The VR experience invited me to look to my left, where I saw a mirrored reflection of "myself." I had become a brightly colored naked woman. Then, the ponies appeared. Little pink ponies began slowly prancing in my direction, and once they reached my virtual body, I could feel something in real life—like little hooves—"running" over my arm just as they appeared in VR.
A few hours earlier, I had asked Anderson, better known to indie and experimental music fans as the critically acclaimed EMA, to show me around her current hometown of Portland in whatever way she pleased. I did this in part to talk about her brand-new, well-reviewed album, Exile in the Outer Ring, but also about her dabbling with technology in the public sphere and what her future tech-related plans might be. I should have known that her Portland tour would somehow combine computers, art, discomfort, and insanity. I just didn't think it'd lead me to an impromptu VR animal-massage experience on a dirty apartment floor.