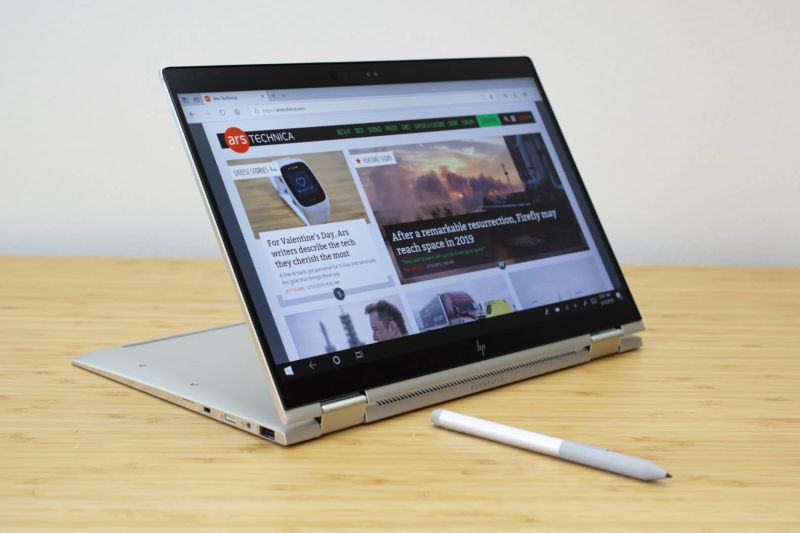 The battle of the business notebooks is in full swing as HP tries to one-up Lenovo—and itself—all in one go. HP scored a winner with an updated 13-inch Elitebook x360 it released last year. Now it's full-speed ahead with the new Elitebook x360 1040 G5, the newest version of HP's 14-inch business notebook. The 13-inch model is smaller and lighter overall, but HP offers upgraded features in this larger convertible and promises a 14-inch display in a 13-inch chassis.
We liked the 13-inch Elitebook x360, so I was looking to answer a few questions in testing the Elitebook x360 1040: Does it succeed in all the ways its 13-inch counterpart did? Is it better than the smaller option? And did HP create a device that can dethrone Lenovo's ThinkPad X1 laptops and convertibles as the kings of commercial ultrabooks? Let's find out.
Look and feel
HP is pushing the fact that the Elitebook x360 1040 fits a 14-inch screen in a 13-inch chassis. That's impressive, but it also means that the company didn't change much about the convertible's external design. The same brushed aluminum coloring covers the entire laptop, accented only by diamond-cut edges that appear shiny and sharp when they catch the light. The metal hinges have a slightly curved, rectangular shape to them, allowing the screen to swivel 360 degrees from laptop to tent to tablet mode.