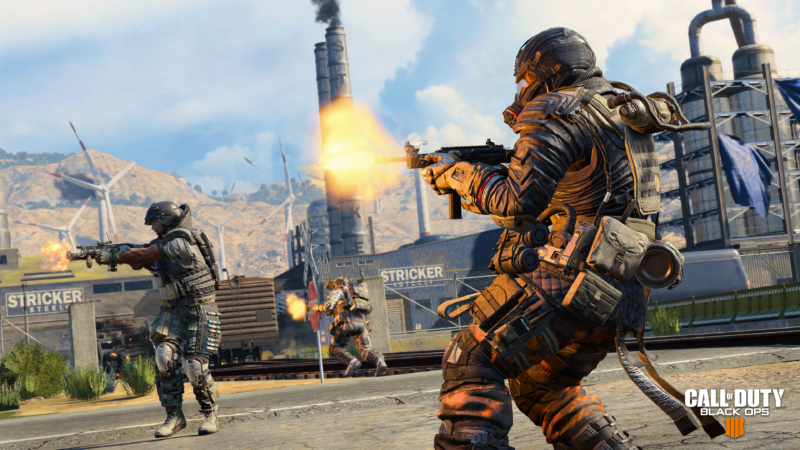 Call of Duty
, like video game war simulations in general, is caught in a paradox. It never changes, and yet, every year, it definitely does change. Approaching a new
Call of Duty,
especially from the multiplayer side, is a bit of a challenge. How much do the various iterative changes matter, and do they manage to reshape the core of the game in any meaningful way?
Call of Duty
has long been a game about moving fast and shooting guns; what makes the latest version worth playing over the dozen-plus iterations prior?
To be fair, Call of Duty: Black Ops 4 changes more than most. The highly choreographed, extravagantly cinematic single-player campaign that has been de rigueur for the series' entire lifespan has been excised. That leaves an awkward hole at the core of the experience, which developer Treyarch has filled with Blackout, an 88- to 100-player battle royale mode in the vein of Fortnite or PlayerUnknown's Battlegrounds. The rest of the game modes—the standard-by-now multiplayer suite and the ridiculous but addictive Zombies mode—fall in line around Blackout, creating a three-tiered experience of hyper-violence and militaristic energy.
Black Ops 4 is the biggest single-game change for the Call of Duty franchise in ages. But it's still, when it comes right down to it, just another Call of Duty.
"Where we droppin', soldier?"
Black Ops 4 doesn't present its content in any particular order. As a player, you can jump freely between its three modes, and nothing—except for player progression in each mode—is gated from the start. The natural place to start, though, is Blackout, the newest part of the Call of Duty package, both the most derivative and the most distinct mode on offer. Taking place on a sprawling map stitched together from locations and motifs in Call of Duty's multiplayer past, Blackout heavily resembles just about any other battle royale game, both in concept and execution.