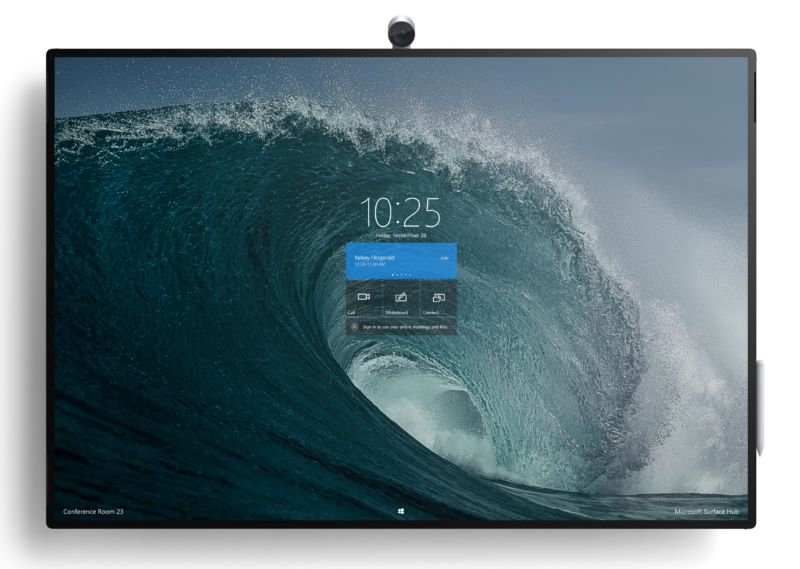 First announced last year, Microsoft's second-generation Surface Hub now has a price and release schedule—and a couple of new siblings, too.
Surface Hub is Microsoft's hardware dedicated to collaboration within meetings. It combines several roles, most notably digital whiteboarding and video conferencing, with Teams, Skype, and OneNote built into a single combined, integrated package. The 50-inch 2S is only vaguely specified: it has a custom-built 3:2 aspect ratio 4K (3840×2560 with 10 bits per pixel) screen with embedded touch sensors that work with both pen and finger. Inside is an 8th-generation Core i5 (Microsoft offered no more specifics than that) with 8GB RAM and 128GB SSD storage; while that may seem miserly, the Surface Hub 2 software is designed so that it doesn't store data locally, so 128GB should be abundant. To support video conferencing, it has an array of eight microphones, front-firing speakers, and a detachable 4K webcam. It will be available in the US from June, with other markets following, for a price of $8,999. One pen and one camera come in the box.
As we've come to expect from Microsoft, the screen looks great. It has a matte finish (reflections are too hard to avoid otherwise), so it doesn't quite have the punch a gloss finish would get it, but it's far better than many of the 1080p screens I've seen in offices around the world. Using techniques refined from building its portable Surface devices, the Hub 2's display integrates the touch-sensing layers into the glass of the screen, a design that makes the screen itself much thinner and reduces the parallax error when using a pen (it was 3mm in the first generation, down to 1.7mm in this).