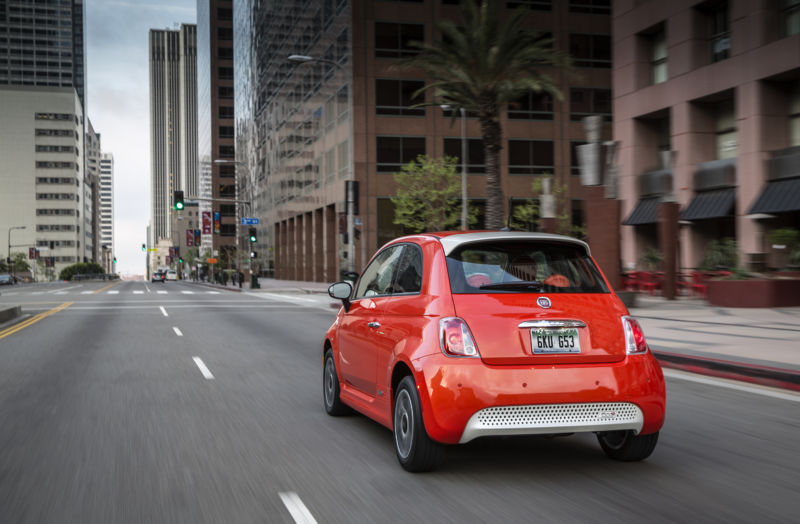 Over the weekend, the Financial Times reported that Tesla and Fiat Chrysler Automobiles (FCA) have entered into an agreement that will deliver Tesla a fresh influx of cash and deliver FCA from the hands of Europe's tough new emissions regulations. Beginning next year, new European Commission rules begin to phase in that require a car maker's fleet-wide emissions to average no higher than 95g/CO2/km—a figure that works out at roughly 57mpg for gasoline vehicles, or 76mpg for diesel-powered vehicles.
From 2020, 95 percent of an automaker's new cars sold in the EU have to meet this target, with the remaining 5 percent falling under the law in 2021. And the penalties for failing are draconian: a €95 ($107) "excess emissions premium" per gram of CO2 over the target, for every single car registered in the EU that year. For some OEMs, this has the potential to be ruinous; if FCA's portfolio were the same in 2021 as it was in 2018, the automaker would have to pay some €2.77 billion ($3.12 billion), out of total net global profits of €3.63 billion ($4.1 billion).
Some OEMs are going all-out in their efforts to electrify in order to meet the new rules; VW's Roadmap E should be viewed in this context, for example. But for others, the road to electrification is not so simple. Although FCA announced a bold, €9 billion ($10.5 billion) plan to electrify its lineup by 2022, its actual plug-in portfolio is currently limited to the Chrysler Pacifica Hybrid (which is not sold in the EU) and the Fiat 500e, a car thought to lose the brand many thousands of dollars for each one sold.