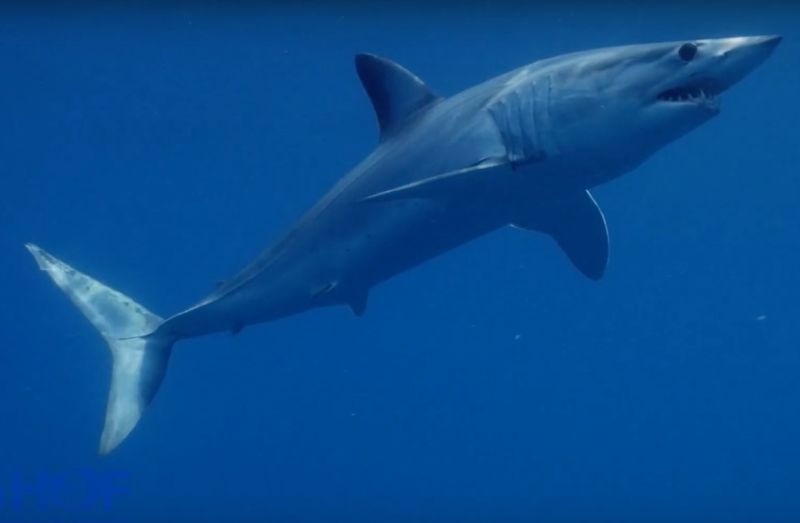 Mako sharks can swim as fast as 70 to 80 MPH, earning them the moniker "cheetahs of the ocean." Now scientists at the University of Alabama have determined one major factor in how mako sharks are able to move so fast: the unique structure of their skin, especially around the flank and fin regions of their bodies. The team described their work at the American Physical Society's 2019 March meeting this week in Boston.
University of Alabama engineer Amy Lang conducted a series water tunnel experiments in her lab to test samples of real mako shark skin from the animal's flanks, using a technique called particle image velocimetry to measure the velocity of the water flowing over and around the skin. Anyone who has touched a shark knows the skin feels smooth if you stroke from nose to nail. Reverse the direction, however, and it feels like sandpaper. That's because of tiny translucent scales, roughly 0.2 millimeters in size, called "denticles" (because they strongly resemble teeth) all over the shark's body, especially concentrated in the animal's flanks and fins. It's like a suit of armor for sharks.
Mako sharks have evolved a distinct passive "bristling" aspect on some of their scales to swim faster. Lang's lab coordinated their project with biologists at the University of South Florida, who imaged shark skin and mapped out the scales, noting particularly how many of the scales were capable of this passive bristling and the angles at which such bristling occurs. They found that near regions like the nose, the scales aren't especially flexible, more like molars embedded in the skin. But near the flanks and fins, the scales are much more flexible.