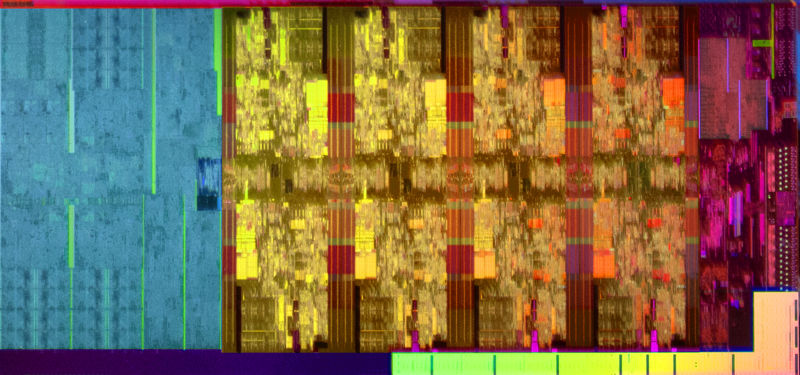 The first processors to include Intel's ninth-generation Core branding came out last year with a limited line-up: just a handful of high-end desktop processors in the Coffee Lake family. Today, the company has unveiled a bumper crop of new ninth-gen chips. There's a set of H-series processors for laptops and a complete range of desktop processors across the Celeron, Pentium, and Core brands, from i3 all the way to i9.
The most exciting of these are the mobile H-series parts and in particular the top-of-the-line Core i9-9980HK. This is a 45W processor with eight cores, 16 threads, and 16MB of cache, with a base clock speed of 2.4GHz and a turbo speed of 5GHz. The "K" on the name also indicates that the chip is overclockable: for those truly monstrous gaming laptops with high-powered cooling systems, you'll be able to go beyond the default speeds. This chip, along with its close partner, the i9-9880H (8C/16T, 2.3-4.8GHz), has a new feature called "Thermal Velocity Boost," too. TVB allows the chip to run 100MHz quicker if it detects that the system still has thermal headroom to do so; as long as case temperatures are below 50°C, it'll give you some extra speed. In fact, TVB is the only way to hit 5GHz; without it, the maximum turbo speed drops to 4.9GHz.
The chip will be good for powerhouse mobile workstations, too; it supports up to 128GB RAM when used with the latest 32GB DDR4 modules, and it can be paired with a discrete GPU using its 16 PCIe 3.0 lanes. Intel has dubbed these powerhouse laptops as "musclebooks;" they'll be hefty desktop replacements and are likely to be outfitted with oversized cooling systems in order to more consistently reach the high clock speeds their processors are capable of. They won't come cheap, though; the i9-9980HK has a recommended price of $583 for the processor.