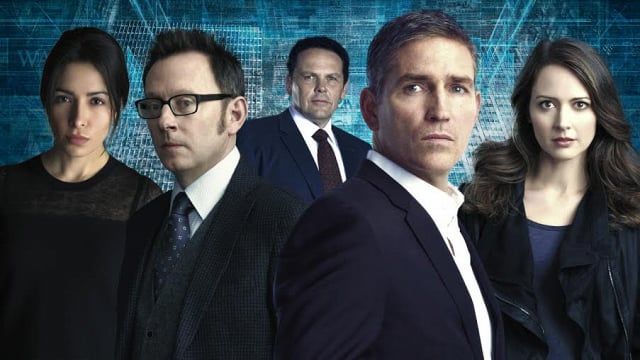 Person of Interest begins its fifth and final season tonight with a raw, disturbing look at the techno-dystopia created by two warring AIs who want to control the fate of America. That's not exactly where you'd have guessed this show would have ended up, if you tuned into the first episode back in 2011. The series started as a vigilante crime-fighter drama, pairing hacker genius Finch (Michael Emerson, from Lost) with ex-CIA ninja Reese (Jim Caviezel, Passion of the Christ) and good NYPD cop Carter (Taraji Henson, before her famous role as Cookie on Empire). The twist was that Finch had created a supercomputer called the Machine, which could analyze surveillance data to predict crime. Though the government had wrested control of the Machine away from Finch, he'd backdoored it to send him the social security numbers of future victims and perpetrators. With help from Reese and Carter, some lives could be saved.
Created by Jonathan Nolan (writer of The Dark Knight) and Greg Plageman (NYPD Blue), the show was tightly-plotted, and always had thoughtful commentary on technology and spycraft. Though it started as a techno-thriller, the show quickly moved away from its number-of-the-week format into something far more futuristic and weird. Conspiracies nested perfectly within other conspiracies, and as our protagonists untangled them we saw how corruption was creeping into law enforcement, from the NYPD to black bag ops at the highest levels of the intelligence community. Bad and good were mashed into creepy shades of gray, and the Machine became a major character, struggling to break free of its coded limitations. New characters joined the cast, like psycho hacker Root (Amy Acker, from Angel and Cabin in the Woods), who believes the Machine is alive, and emotionless super-agent Shaw (Sarah Shahi). Oh and also, the gang got a dog named Bear. When Carter died tragically at the end of season 2, the former corrupt cop Fusco (Kevin Chapman) stepped up to give an inside view of the NYPD and deliver some deadpan humor.
Brooding over all the action—whether it was organized crime, secret government assassinations, subversive Anonymous-like political groups, or out-of-control surveillance tech—was the Machine, slowly gathering sentience over the seasons. Finally, it figured out a way to steal its own servers from the government, stashing its distributed brain in hidden underground facilities, and eventually in a massive, redundant network that stretched across the whole country. Meanwhile a corporation called Decima got its hands on a second AI called Samaritan with powers equal to the Machine. But unlike Finch's emo creation, Samaritan is unhindered by ethics and unmoored from a social group of do-gooders. Decima sells Samaritan's services to the government and promptly begins dividing US residents into desirables and undesirables. All subversive elements are ferreted out and removed. Aided by Decima's cackling CEO, Samaritan even throws local elections, and begins to build up an elite army to do its bidding.